Volunteer Opportunities
Our volunteers are community members, PUSD parents, college students, high school students, realtors, and teams representing businesses and other associations. Our volunteers offer their support to PUSD and PEF initiatives including My Masterpieces, Farm to School Gardens, Summer Enrichment Program, Robotics and more.
Our volunteers' commitment is also felt directly here at PEF through office and event support, and out in the world as community advocates for the work of PEF and for public education.
CURRENT VOLUNTEER OPPORTUNITIES
Have a green thumb? We need you! Groups of up to 5 or individuals welcome. High School students will received service hours. Learn more.
---
High school students aged 15 and up can serve with confirmed parent permission. Social distancing and COVID-19 protocols will be observed.
Distribute Grab and Go Meals to Pasadena Unified students and families. High school students aged 15 and up can now serve with confirmed parent permission.
---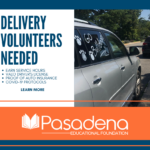 Volunteer Drivers Needed – We are looking for a few drivers who can lift boxes of books to help us with stocking local Little Libraries. Valid driver's license, proof of insurance, and the use of your own vehicle are required. If under 18, parent permission also required. Interested? Send an email to ncinguanzo@pasedfoundation.org.
---
Virtual Volunteering – Earn Community Service Hours
---
CORPORATE VOLUNTEER PROGRAMS
For information about custom corporate volunteer action days, please email Nancy Carol Inguanzo, Community Outreach & Volunteer Manager at ncinguanzo@pasedfoundation.org